Bed and Breakfast Room Rates
Plan your stay at our Baltimore Bed & Breakfast in one of eleven charming guest rooms and suites. All rooms include a full gourmet breakfast, cable TV, telephone, fireplace, refrigerator, microwave, robes, bottled waters and complimentary WiFi. Click here to view our special packages to add to your reservation.
Guests can enjoy the tennis court, Olympic size swimming pool, croquet sets, flower & herb gardens, woodland trails and bird watching. With romance and spa packages available, choose your favorite accommodations for a most memorable B&B getaway. Click here for more things to do on the property at Gramercy.
A special thanks to Jillian McQuerrey, B.O.B Photography, for beautiful photos of our guest rooms.

---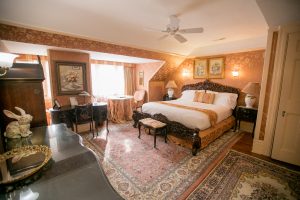 Aphrodite's Retreat
King bed, sun-filled room with oriental carpets and French antiques; electric fireplace, panoramic valley views and modern shower. Third floor. 398 sq. ft.
Room Rate: $250 | Check Availability
---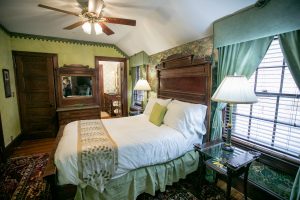 Country Room
Double bed, with view across the center garden to the Carriage House; Edwardian flair for quiet repose, electric fireplace, single whirlpool tub & shower combination. Second floor. 269 sq. ft.
Room Rate: $185 | Check Availability
---
Cassatt Suite
King poster bed with canopy, European Renaissance retreat in gold and blue. Features fabric-draped walls, yellow and gold marble bath with heated floors, double whirlpool tub and separate two person shower, double vanity sinks, sitting room with day bed and electric fireplace and private terrace with water feature. Private lower level. 743 sq. ft.
Room Rate: $450 | Check Availability
---
Hunt Room
King poster bed, Maryland Hunt decor reminiscent of historic 19th century Baltimore, marble bath with double whirlpool tub & separate shower. Third floor. 398 sq. ft.
Room Rate: $275 |  Check Availability
---
Ambassador's Room
King bed, elegant draperies and furnishings; wood-burning fireplace; double modern glass shower. Second floor. 398 sq. ft.
Room Rate: $325 | Check Availability
---
Tower Room
King hand-carved poster bed and antique, inlaid electric fireplace. Italian-tiled bath with shower & separate double whirlpool tub. Third floor. 441 sq. ft.
Room Rate: $350 | Check Availability
---
Tudor Room
King canopy bed, warmed by a massive gas fireplace of antique English oak; double whirlpool tub & separate shower with marble, mosaic bathroom floor; wrought-iron balconies and private porch with entrance to shade and statue garden; handicap-accessible first floor. 441 sq. ft.
Room Rate: $350 | Check Availability
---
Garden Suite
King bed plus 2 singles, enjoy the romance of a three room suite with French antiques; modern glass shower; sitting room with wood-burning fireplace; huge, window-filled master bedroom overlooks pool & wedding gardens. Second floor. 947 sq. ft.
Room Rate: $400 | Check Availability
---
Camelot Room
King bed, elegantly appointed with a private sitting room with day bed, lavish double whirlpool tub & separate rain shower; marble electric fireplace; Juliet balcony with valley view. Sample the pleasures of this magical suite fit for royalty. Second floor. 743 sq. ft.
Room Rate: $400 | Check Availability
---
Magnolia Room
Double bed, charming garden view, room accented with blue and gold fabric walls; electric fireplace; marble bathroom and shower. Second floor. 194 sq. ft.
Room Rate: $165 | Check Availability
---
Bar Harbor Room
Queen bed, inviting garden view room with electric fireplace; single whirlpool tub and shower combination accented with birds of America tile. Second floor. 248 sq. ft.
Room Rate: $200 | Check Availability
---
Rates are subject to change & discounts may apply. Click here to view our Room of the Month and other additional discounts. Please call 410-486-2405 for details.
Policies & Additional Information
Please be advised, Gramercy is a historic mansion and an elevator is not available. Most guest rooms are located on the second and third floors, and are accessible by stairs only. Room descriptions state the location of each guest room. One handicap-accessible guest room, the Tudor Room, is located on the first floor.
Pet Policy
Only service dogs with proper documentation through the ADA are allowed at the Mansion. "Emotional Support Animals" are not covered under Maryland law and the ADA. You must inform us if you have a service dog at the time of booking. Failure to inform our staff is subject to forfeiting your reservation without refund. Your service dog must be under your control at all times, whether this is by the means of a leash, hand gestures or voice control, your dog cannot become unruly. In addition, if your service dog were to damage anything in the hotel room, you are still liable for the cost of those damages.
Payment & Deposit Policy
A reservation fee in the amount of one night's stay is required to confirm your reservation and applies towards the total balance due. The remaining balance is due at the time of check-in.
Cancellation Policy
Full refund minus $20 cancellation fee for room cancellations within 7 days of stay.
Cancellations 7 days or less in advance, no refund.
When using a gift certificate for reservations, the same cancellation policy is in effect.
Spa, Romance, Proposal and/or Elopement/Vow Renewal packages are charged at time of reservation, and are non-refundable and non-transferable for the time reserved.
All rooms based on double occupancy. Check-in time: between 3-6 p.m. or by arrangement. Check-out time: 11 a.m. All rooms are non-smoking ($250 fine or more at the owner's discretion).
We welcome children ages 6 and older. Extra Person Rate: $30.
Photography/Videography Policy
Gramercy Mansion, LLC reserves the exclusive right to manage, maintain, and limit all photographic images, videography and electronic publication taken on its premises. All of the property stated above is subject to the approval of Gramercy Mansion, LLC prior to publication.