Wine Suppers & Special Events
Exciting Events Happening at Gramercy Mansion
We want your stay to be as enjoyable, fun and relaxing as possible. Check out our upcoming events below to enhance your experience with us! Save the dates for Wine Suppers and Paint Nights at Gramercy Mansion. While you do not have to book a room to attend an event, we do have special offers available on event nights. Reserve a bed & breakfast room for 20% off of accommodations. Chef's Expressions dinners only.
Discount available on mid-week B&B reservations only. For B&B reservations or questions, contact Gramercy Mansion: 410-486-2405.
Open Houses
Our next Wedding Open House will be on Saturday, January 12, 2019 from 2:00-4:30 p.m. This event is designed for engaged couples to tour the Mansion and the Carriage House while also having the opportunity to meet some of the best wedding professionals in the area. While free to attend, registration is required, and can be completed here. Each registrant can bring one guest.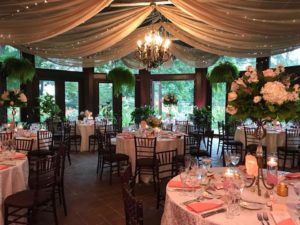 Previous Event Nights
Holiday High Tea
On Sunday, December 9, from 12-2 p.m., enjoy an artfully prepared four-course tea menu by Chef's Expressions served with a selection of teas by our innkeepers in the festively-decorated Atrium. Gather friends and family for a delightful afternoon, and afterwards, stroll through the Gramercy Mansion Gift Shop.
Tickets are $45 per person plus tax and service, and all guests must register to attend. Please call 410-486-2405 to reserve your seat.
Wine Suppers at Gramercy Mansion
November 15, 2018: Napa vs. Sonoma Wine Supper, 6:30 p.m.
We're bringing back one of our most popular wine suppers! Two renowned wine regions will battle it out in a multi-course dinner. Who will reign victorious?
December 19, 2018: Best of the Best Wine Supper, 6:30 p.m.
This annual sell-out event brings together a supreme collective of all the favorite wine and food combinations from throughout the year.
Tuesdays with Anne
Tuesdays from April – October, 11 a.m. – 1 p.m.
Join us on Tuesdays throughout the spring, summer and fall for guided tours of Anne's beautifully landscaped gardens and the historic mansion followed by lunch in the Atrium. Choose from a variety of gourmet deli sandwiches served with chips, fruit, dessert, and beverages. Call 410-486-2405 to book your group's registration.