Breakfast
A stay at Gramercy is not complete without enjoying a delicious breakfast prepared to order and included with your stay. A full American-style breakfast is served between 7:30-9:30 a.m. at individual tables for two in the first-floor dining room or on the covered terrace.
Our extensive gourmet breakfast begins with fruit and juice choices, served with hot coffee, tea or mulled cider (seasonal). Guests' favorites include the healthy heart omelet and banana pancakes. In season, we proudly use our fresh organic herbs from the property's Koinonia Organic Farm.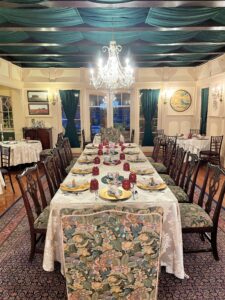 View Our Menus
Vegan, vegetarian, gluten free, dairy free, kosher and children's options are available upon request. We will do our best to accommodate guests with any dietary restrictions or allergies – please notify us upon reservation or at check in.
Fresh fruit and orange juice are always part of a kosher breakfast. We will make every attempt to obtain Goldberg's New York Bagels and cream cheese. If other circumstances or timing issues arise prohibiting us from doing so, we will gladly substitute with fruit cups and Chobani yogurt. Not available on Sundays.