The Carriage House Meetings
Experience the private and peaceful tranquility of the Carriage House at Gramercy. This contemplative, quiet corporate conference center is ideal for meetings, training sessions and seminars. The Carriage Room, Dining/Conference Room and Breakout Room open to a central courtyard enhanced by a tranquil fountain and flower gardens.
The spacious Carriage Room, complete with a crystal chandelier, provides ample space for a variety of seating styles. The adjoining Dining/Conference Room with a large banquet table is ideal for food and beverage services throughout the day, or for extra meeting space. The Breakout Room provides a comfortable space with access to the garden courtyard via French doors and three private bathrooms. Enjoy a lunch break outdoors and stroll through the gardens to feel rejuvenated and inspired.
The Gramercy staff will be available to coordinate your on-site catering requests, audio visual rentals and overnight B&B accommodations.
Carriage House Rentals
Rental Rate
Availability
Days & Hours of Operations
Daytime Rental
$500 (8 Hour Rental)
 -May reserve anytime.
-30 Minutes Set-up time prior to the start of the event.
Monday – Thursday
8 a.m. – 4 p.m.
Weekend Rental
$500 (8 Hour Rental)
-Only available two months or less in advance of the event date.
-30 Minutes Set-up time prior to the start of the event.
Friday – Sunday
8 a.m. – 4 p.m.
Evening Rental
$250 per Hour
(2 hour minimum for a catered event)
-Available in addition to a daytime rental.
7 Days a Week
4 p.m. – 9 p.m.
The venue rental rate includes tables, chairs, linens and set-up. On-site parking and Wi-Fi access is free.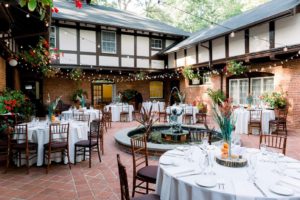 Seating Styles
We recommend certain seating arrangements depending on the number of guests.
U-Shape or Conference: 30 people
Classroom: 50 people (all tables and chairs facing projector in straight rows)
Theatre: 80 people (all chairs in curved rows facing projector)
Banquet: 80 people (10 round tables and 100 chivari chairs)
Cocktail: 100 people (high top tables)

Audio Visual Rentals
DLP Projector: $85
Projector Screen: $25
Flip Chart with Paper: $30
Food Service
Food and beverage service may be supplied via a food establishment of your choosing. When guest count exceeds 30, there is a $100 cleaning fee unless your event is being catered. Caterers would be responsible for set-up and clean up.
Food and beverage service is also available via Gramercy. Click here for detailed food options and catering information.
Reservations
In order to reserve a date, a signed contract and the full rental amount is needed, via check. Balance for food and A.V. rentals is due no later than seven days prior to the event by check, cash, or credit card. Please note, there are no refunds for any cancellations and dates are not transferable.
Corporate bed & breakfast rates are available at a 20% discount from Sunday – Thursday. Click here to view our guest rooms.
Contact us at 410-486-2405 to reserve your date today or to schedule a visit.
Check out Gramercy Mansion