Koinonia Organic Farm
Koinonia Organic Farm History
On January 1, 1951, Koinonia officially opened its doors as an ecumenical training center whose campus currently houses Gramercy Mansion Bed & Breakfast, as well as the surrounding outbuildings. Individuals with skills came from far and near and were trained at Koinonia for service overseas. Technical training given was in literacy methods and organic gardening. The garden is still organically operated today (the oldest organic farm in Maryland), providing fresh herbs to local supermarket distribution centers.
To learn more about Koinonia Organic Farm, visit our website here.
Organic Culinary Herbs
Koinonia currently grows and sells the following herbs and sells them to Whole Foods, Graul's Market & Giant: Basil, Chives, Cilantro, Dill, French Tarragon, Herb Blends, Marjoram, Oregano, Rosemary, Sage, Spearmint, Tarragon, Thai Basil & Thyme.
Current Certifications:
USDA Harmonized GAP
Certified Organic by the Maryland Department of Agriculture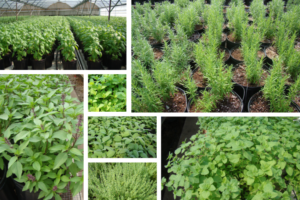 What is organic farming?
Organic farming refers to an agricultural system used to produce food relying primarily on biological diversity & crop rotation to manage pests and to maintain soil fertility without the use of harsh chemicals and pesticides.
What does certified organic mean?
Any food product sold as "organic" must meet the national standards for food safety required by the United States department of Agriculture. An annual inspection by the state's Department of Agriculture reviews the farm's organic plan, fields & processing facility to ensure that the management practices in place restore, maintain & enhance ecological harmony.
How does Koinonia Farm fertilize its crops?
Cover crops such as winter wheat, red clover, hairy vetch or rye are plowed under with composted leaves with the goal of producing healthy soil yielding hearty plants. It is a common misconception that organic crops are more susceptible to E. coli bacteria. To insure that all of our crops are E. coli free, Koinonia Farm refrains from the use of any raw manure for fertilization.
How do organic farmers manage insects?
Although the USDA does allow the use of approved organic pesticides, Koinonia Farm relies on the use of traps, barriers, garlic spray and bio-remediation techniques such as introducing beneficial insects and traps to control parasites.
How do organic farmers manage weeds & disease?
The cost of organic food is often higher because organic farmers substitute labor (mechanical tillage & hand weeding) for agricultural chemicals. The use of ground cover also disrupts the habitat for weeds and insects.
By supporting organic farming, you can develop a healthy & nutritious lifestyle for you & your family
while contributing to a healthy community and a healthy planet.
Connect With Us
If you are a business looking to source local, organic herbs, please call 410-486-2405 and ask to speak with Raina. Like us on Facebook and follow us on Instagram to keep up with happenings around the farm. Thank you for your interest in our farm!
 Working with us is "mint-to-be!"