Wedding trends change often, and new ideas are always coming into play. From sparkler exits to dogs in weddings, couples are looking for ways to personalize their big day. At Gramercy, our goal is to provide couples and their guests with amazing experiences, and a unique venue to celebrate their love at with family & friends!
Carriage House Makeover
We have seen different trends come and go over many years, and as a historical venue, we still want to offer our couples a space that accommodates these trends and their personal vision. While the Mansion is ornate and full of color, we decided the Carriage House, also located on the grounds of Gramercy, needed an update!
As you can see in photos below, all walls have been painted a light gray, updated from the pastel yellow that existed before. The trim has been painted white to complement the gray. A brand new, sparkling chandelier is now hanging in the main reception area, and every piece of artwork, besides one painting, has been removed. The curtains have been replaced with sheer white, romantic drapes. We also transformed an unused room into a getting-ready suite, exclusively for Carriage House weddings.
Below are final photos, along with before and after photos of the venue. Enjoy!
The Final Look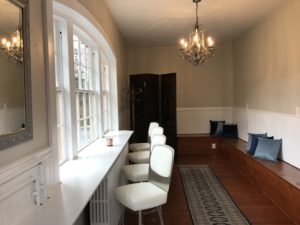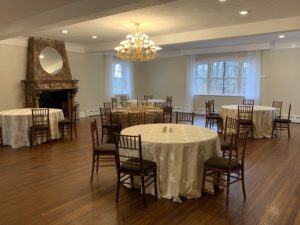 Before & After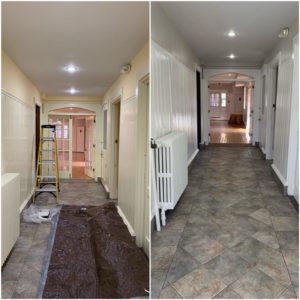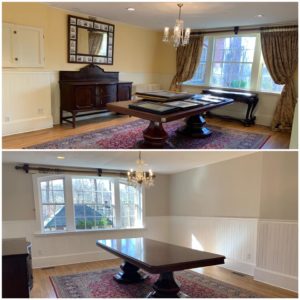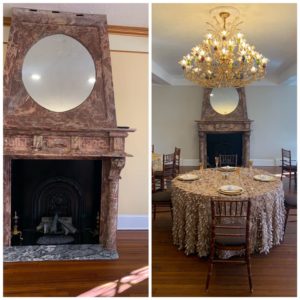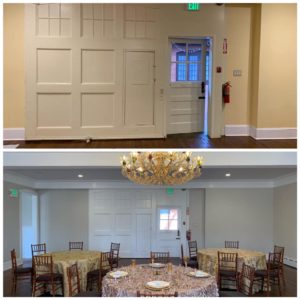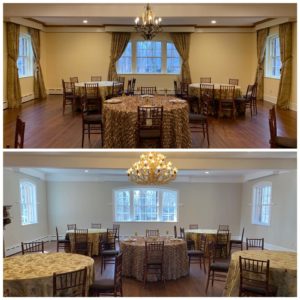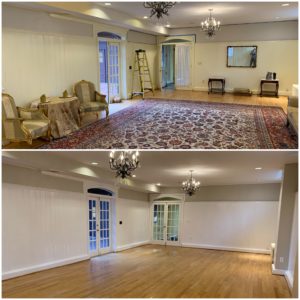 The Idea Behind the Work
We chose to complete this renovation in order to provide a more modern venue so that couples can bring any theme or wedding vision to life in this space. The inside rooms now match the beautiful outdoor courtyard strung with bistro lights, and the blooming gardens.
Our Carriage House accommodates up to 100 guests for any event. The space includes outdoor gardens, a courtyard with fountain, three adjoining indoor rooms and a getting-ready suite. Tables and chairs for your reception/event are also provided.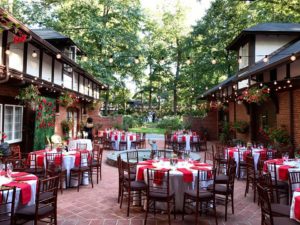 For Your Wedding or Party
To learn more about our Carriage House space, click here or call 410-486-2405. We are happy to schedule tours seven days a week around our event schedule, and look forward to meeting you!