Meet Jessica, our talented Event Specialist! She joined the Gramercy team in March of 2017 and uses her background in event coordination to help our guests and couples plan their own special experience. You may see her during the week, or on the weekends, giving tours, answering the phone or showing guests to their overnight room. We are so grateful for all that she does at the Mansion!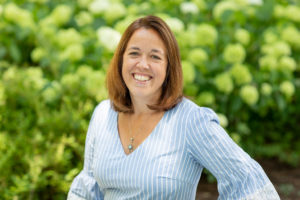 What do you enjoy about working special events?
I chose to apply and work at Gramercy because of the event experience I had from working for a large corporate hotel, which had over 1,000 rooms, and I felt like I could apply those skills here. I've always loved being involved with the event industry, but I knew being at a smaller company is more my style, and the Mansion is a great fit for that. I'm able to interact with the guests and get to know them, which makes me feel more connected to the business as relationships are built. 
How do you spend your free time with your kids?
My two children, Erin & Liam, love the beach – so my husband and I love spending time with them there. When we're back home, we keep busy with various activities including sports, Boy Scouts and theatre. There seems to always be something going on, but that just means more time together. I also enjoy volunteering at their school and am a part of the home school association board.
Do you have a favorite restaurant?
Woodberry Kitchen, located in Clipper Hill, MD, is definitely my favorite. It's one of the restaurants I mention to guests if they're looking for a new dinner idea. This restaurant has seasonal menus that always focus on local and organic food, which is great because I also try to buy local as much as possible. 
What makes you most excited about the holiday season?
We are heading to Disney World for the Christmas holiday before we spend time and celebrate with family. We've never seen the park decorated at this time of the year, so my family is looking forward to this new experience!
Do you have a preferred season at Gramercy?
Spring time is so gorgeous and colorful in the gardens, so that would be my favorite season here. But I do enjoy watching the gardens change with each season too.
Thanks for reading!
See what Gramercy Mansion is all about when you visit us! Stroll the gardens or attend a Wine Dinner. Your romantic getaway awaits!