Meet our Director of Housekeeping, Doris! We couldn't run our bed & breakfast without her leadership and expertise. She oversees and helps our wonderful team of housekeepers, who prepare delicious breakfasts, clean the guest rooms and keep our venues beautiful for weddings and events. Her fun-loving personality brings smiles to our faces each day, and allows her to be a wonderful Spanish-speaking Wedding Officiant within the state of Maryland.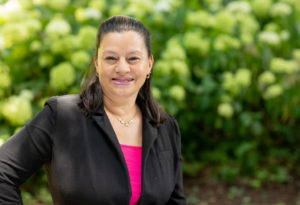 How long have you been at Gramercy?
I have been working at Gramercy for over 20 years, and the Camelot Room is my favorite. I help with cleaning, weekly grocery shopping for breakfast and organizing storage spaces in the Mansion. It feels like a family here, working for Cristin and Anne, and the Mansion feels like my home. I've known Cristin's children since they were born, and have loved seeing them grow up. 
What is the most popular item on our breakfast menu?
Omelets are definitely ordered the most for breakfast. 
What activities do you enjoy doing with your family?
We always go shopping and try new restaurants. In Honduras, my favorite thing to do is see my three grandchildren. 
Do you have a favorite season?
The summer season is definitely my favorite time of the year. I love the sunshine and being outside when it's warm. 
What do you like to do in your free time?
On Sundays, my husband and I sometimes go to the movies or out to lunch. One of our favorite spots is Mezcal, but mostly I enjoy relaxing. 
Thanks for reading!
See what Gramercy Mansion is all about when you visit us! Stroll the gardens or attend a Wine Dinner. Your romantic getaway awaits!