Last October, Jenna & Jon had the most beautiful fall wedding day at the mansion. The gardens were full of every color you can imagine, the outdoor ceremony had just enough sunlight, and hints of rose gold brought all of the decor together. We absolutely loved the welcome champagne that awaited guests in the foyer before the table was transformed to display their record player guestbook. Each detail was thoughtfully planned, and B.O.B Photography was there to capture it all!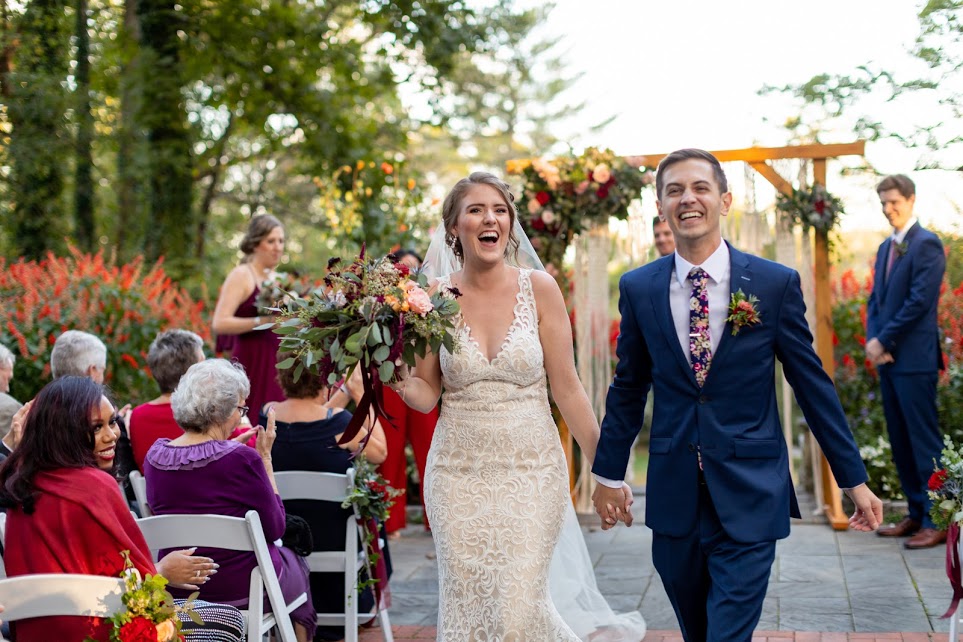 Before exchanging vows, Jenna & Jon shared the BEST first look in the Carriage House gardens. His reaction was priceless and is sure to bring a smile to your face! The ceremony had a gorgeous arbor, hand-crafted by the bride and groom and accented with flowers from Willow Oak Farm. After the ceremony, the new Mr. & Mrs. joined guests for cocktail hour in the backyard, featuring food & drinks by Zeffert & Gold Catering.
Inside, the atrium was ready to welcome guests for a family-style dinner before the newlyweds cut the cake and danced the night away! If you're looking for some seriously stunning wedding inspiration, be sure to check out their wedding details below. Congratulations Jenna & Jon!
Additional Vendors: Sugar Bakers Cakes | The Brushing Bride | Betsy Robinson Bridal | My Dee Jay
Gramercy Mansion for Your Wedding Day
We would love to accommodate you for your event or special celebration, and our staff is welcoming of all couples. Schedule a tour with us by calling 410-486-2405 or visit our weddings & parties page by clicking here. Our gardens are blooming in the spring, summer and fall!
Tags: baltimore county, Baltimore gardens, baltimorecountywedding, bed and breakfast, gardens, gardenwedding, Gramercy, Gramercy Mansion, Greenspring Valley, wedding reception