House and Garden Tours
Tuesdays with Anne – House and Garden Tours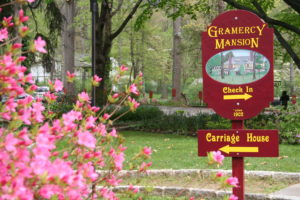 Tuesdays from April – October, 11 a.m. – 1 p.m.
Join us on Tuesdays throughout the spring, summer and fall for guided tours of Anne's beautifully landscaped gardens and the historic mansion followed by lunch in the Atrium or the Carriage House. Choose from a variety of gourmet deli sandwiches served with chips, fruit, dessert, and beverages.
Click here for detailed information.
By reservation only. Must have a minimum of 6 people. $30 per person. 
---
"All of our card club ladies loved the Mansion, picnic lunch, and Garden Tour. Such a lovely place, so glad Anne is willing to share her knowledge of the gardens and history of the beautiful mansion. We had a most delightful day and look forward to returning." ~ June Schmidt, June 2016
---
In the Gardens with Anne…
On a beautiful day, or even a drizzly spring morning, you'll find Anne Pomykala, owner of Gramercy Mansion B&B, tending her gardens. The Pomykala's purchased the 45-acre estate in 1985, but with much restoration work required in the Mansion itself, the endeavor of creating gardens and landscape to compliment the historic home was not truly underway until ten years later. While much of the property is wooded and seven acres are dedicated to organic farming, about three acres surround the Mansion, Carriage House and cottages with landscaped gardens sprung from Anne's creativity and passion for nature's beauty.
A path behind the Mansion winds from a shade garden complete with marble gazebo to a large oval wedding garden. A heart-shaped garden showcases colorful tulips in early spring. An Edwardian-inspired front garden separates the Mansion and Carriage House. Over-layered early and late blooming perennials and annuals add depth to borders boasting a continuous wave of color from February's first snowdrops through November's falling leaves. Whimsical statues, benches, sculptures, sun dials and fountains add to the abounding charm of the property's gardens. Anne's latest project currently underway is a wishing fountain with tiled patio and water feature tucked into the shade gardens behind the Mansion.
Hundreds of couples have celebrated weddings in Gramercy's gardens and countless B&B guests wander the meandering paths, spying hummingbirds over their morning coffee. Anne couldn't be more delighted to share her gardens with each and every one of them!