One of our favorite things about the Mansion & The Carriage House is you can bring your theme or wedding vision to life surrounded by beautiful grounds no matter the time of year. Whether it be your favorite movie or color, make the day your own at Gramercy.
In April, we had a gorgeous wedding that featured elements from Disney, Star Wars, Game of Thrones and video games. It was pretty epic. And the bride even did a dress change into a gorgeous red gown. This complimented the bold red and yellow hues of the wedding perfectly. Luckily, Devon Rowland Photography was there to capture it all at Sasha & Dalan's big day!
Wedding Day Details
The ceremony site had pops of red & yellow fabric and florals from the chairs to the arch that surrounded the couple as they said "I Do."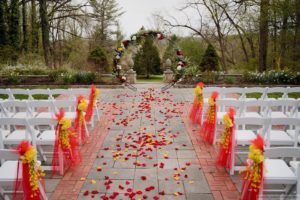 Inside the Mansion, it was the perfect pop of color in the reception area, and we love the floral centerpieces and hanging candles that completed the look. Enjoy taking a peek into their wedding day!
Tags: baltimorewedding, gameofthroneswedding, gardens, gardenwedding, mansionwedding, marylandvenue, receptionvenue, springwedding, starwars, starwarswedding, wedding