We just love the simplicity of a beautiful elopement at the Mansion! Whether you want something small & sweet, or you want to turn your ceremony into a getaway package, we have options for you! An elopement is a ceremony only in an outdoor or indoor location of your choice at Gramercy.
Why an Elopement?
Elopements are a great way to escape the hassle and stress of wedding planning, and focus on celebrating the love between you and your partner. They are also incredibly fun, as you can surround yourself with your closest friends & family, or simply leave it as just the two of you. The options are endless, and our staff is here to make your dream day come true!
Darla & David's Wedding Day
Darla & David recently tied the knot at Gramercy Mansion, and Amanda MacPhee Studios was there to capture every beautiful moment. As Weddings by Jenna helped these two exchange "I Do's," our gardens created a romantic backdrop.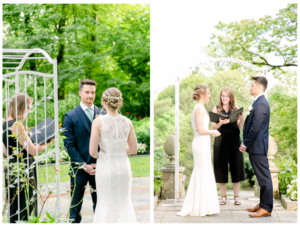 Our favorite part of the day was as Darla stepped out of the Mansion, the threatening clouds disappeared, and the sun glowed at the ceremony site. It was perfect! We hope you enjoy taking a peek into their special day!
Elopements at Gramercy Mansion
Our team at Gramercy would love to make your wedding day memorable. To learn more about elopements, click here to view our packages. If you would like to see our ceremony locations in person, call 410-486-2405 to schedule a visit. We hope to see you soon!