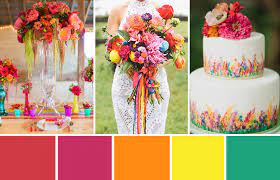 With our world being in such disarray these past two years, a wedding is sure to lift everyone's spirits! From the flowers, food, personal eclectic touches—and of course the wedding gown or suit—guests are always excited to see what they will be a part of!
The wedding trends this year are definitely different from what we have seen in prior years. We are saying goodbye to pastels and hello to bright colors! From monochromatic bridesmaid's dresses to neon flowers, the possibilities are endless. Wedding couples are now wanting that pop of color to stand out and provide some brightness during these dark times of the pandemic.
Another popular trend that is making its way this year is having food trucks at the reception! What a fun way for your guests to enjoy different cuisines and have a night they won't forget! From Ice Cream trucks to Pasta on the Go, wedding guests will be very impressed—whether ordering a full meal or grabbing a quick bite after dancing the night away!
Your wedding day is a day that you do not want to forget—so capturing each moment is a must! Your photography team can only be in so many places at once, so why not provide a camera for each guest to catch many more memories? Polaroid and disposable cameras are sure to be a hit in 2022. Wedding couples will love to see all the pictures taken by their loved ones on their special day.
Trends can fit into any couples' style, and it's a great tool to begin planning your special day. We can't wait to see what great trends our couples have during their weddings at Gramercy Mansion!